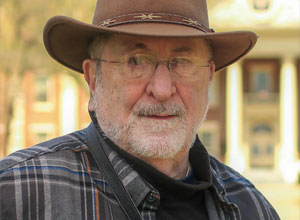 Member at Large
I joined Unity of Fairfax in 1996.  My earliest (family) affiliation was with the Episcopal Church.  As a young adult I found a compatible home at the Unitarian Churches in Arlington VA and Oakton Va.
Seeking a more spiritual connection in community and in my personal life I feel fortunate to have found Unity of Fairfax and have made it my social and spiritual home.  My wife Ellie and I met at UoF in 2004 – at a Christmas Eve service no less.
I am a graduate of Roanoke College with BA degree in business administration.  My career has been in corporate photography and video production.  As such I am a life member of the Professional Photographers of America and have a PPA degree: "Certified Professional Photographer." I also have an MFA degree in film and video production from American University, Washington DC.
  I have owned two imaging-based companies and now have a part-time business called "Shoebox Solutions" which offers a digitizing service for family archives.  I have taught photography and video courses at the Art Institutes of Washington, (Dulles VA campus), and for Fairfax County Schools – Adult Continuing Education (ACE) classes in media digitizing.
At Unity of Fairfax I supplied photography and articles to our newsletter " Lovelight" in the 1990s and was briefly webmaster under Rev. Donna Dearmore/Johnson.  On or around 2015 I purchased live video streaming equipment and began the first live streaming of Sunday Services at our church.  I am now team lead for the  live streaming service.
The Board Information page.
Return to Board of Trustees page.
updated on January 11, 2022