Flexible space in an easily accessible location
Rent space for a wedding or a memorial service.
 
Multiple room sizes able to accommodate as many as 350 participants.
 
Access to beautiful grounds, including labyrinth and meditation garden.
 
Perfect for conferences, weddings, memorial services, workshops, recitals, classes, or meetings.
 
Professional sound and audio visual system.
 
Livestreaming and pay-per-view capability.
 
Wi-Fi available.
 
Catering kitchen available.
 
Free onsite parking.
 
Located close to I-66 in Oakton, VA.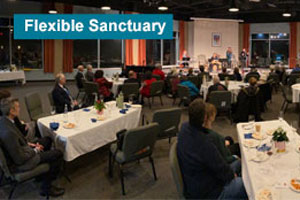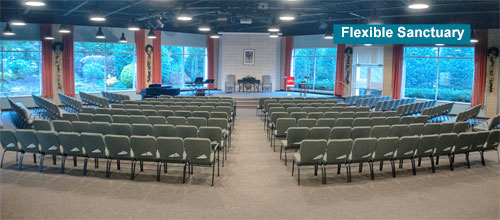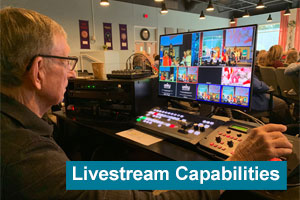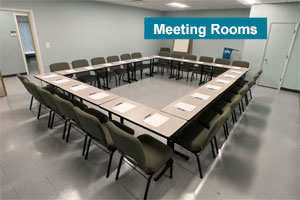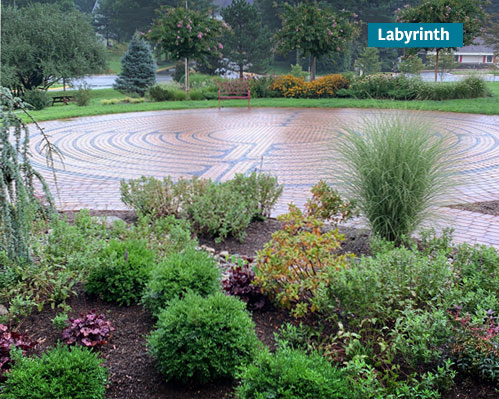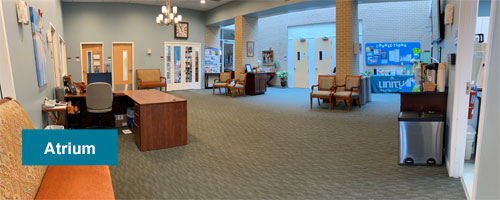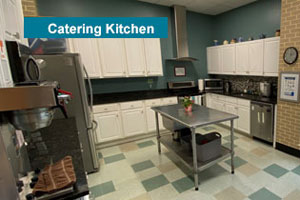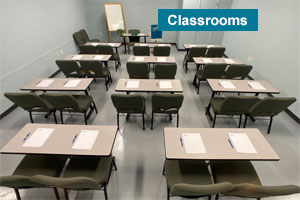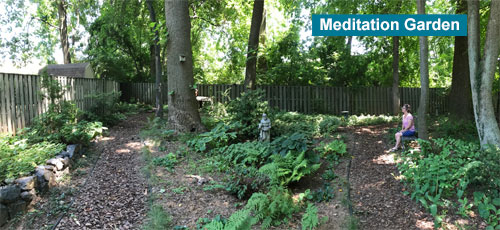 Welcome to Unity of Fairfax
Rental Fees
Minimum rental times including set up and cleanup apply. Half and full day packages available.
Custom quotes will be provided once we understand your plans and the type of space you are requesting.
Please contact Unity of Fairfax: admin@unityoffairfax.org / 703-281-1767 or you may go direct to our Book an Event form.
Sanctuary

Weekday: $100/hour, Weeknight: $150/hour, Weekend: $200/hour
 

Sanctuary + Atrium + Kitchen

Weekday: $150/hour, Weeknight: $200/hour, Weekend: $250/hour
 

Kitchen (catering)

Weekday: $50/hour, Weeknight: $75/hour, Weekend: $100/hour
 

Labyrinth Plaza

Weekday: Custom Quote, Weeknight: Custom Quote, Weekend: Custom Quote
Classroom Area: Group (up to 30)

Weekday: $50/hour, Weeknight: $75/hour, Weekend: $100/hour
 

Classroom Area: Conference Package (4 rooms)

Weekday: Custom Quote, Weeknight: Custom Quote, Weekend: Custom Quote
Time Availability
Weekday: Monday through Friday, 8 a.m. to 6 p.m.
 
Weeknight: Monday through Thursday, 6 p.m. to 10 p.m.
 
Weekend: Friday 6 p.m. through Saturday 10 p.m.; Sunday 3 p.m. to 10 p.m.
 
Additional Fees may be quoted if your plans include any of the following: catering food, coffee / tea service, audio visual support, portable sound system, livestreaming, pay-per-view, or use of baby grand piano. Fees for Facility Manager and cleaning services will be included as appropriate.
Floorplan and Available Rooms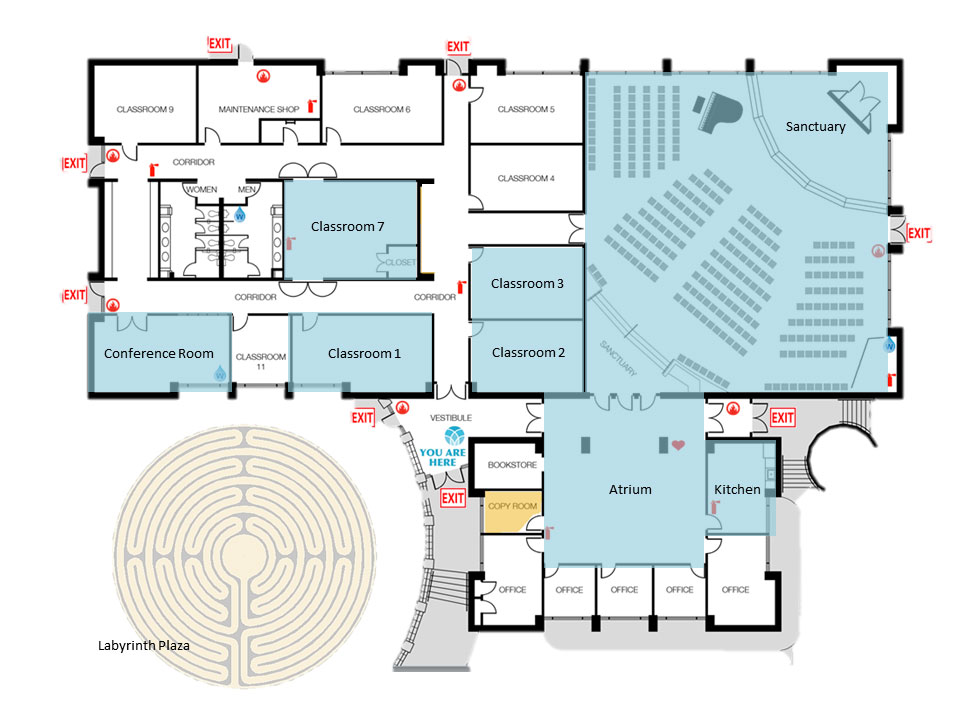 Rooms available for rentals highlighted in blue
Sanctuary
Seating available up to 350. Chairs can be moved into any configuration or removed for open space.
Professional sound system and live streaming available for additional fee.
Atrium and Catering Kitchen
Reception and registration area available.
Kitchen for catering (no cooking allowed).
Classrooms
Classrooms can accommodate groups up to 30 people.
Classrooms are equipped with smart TVs that can be easily connected to a laptop or mobile device.
Tables and chairs can be set up in many different configurations to fit your needs.
5 classrooms available.