View the Labyrinth page, and read about why we invision a permanent, outdoor labyrinth at Unity of Fairfax.
---
Summer, 2019
---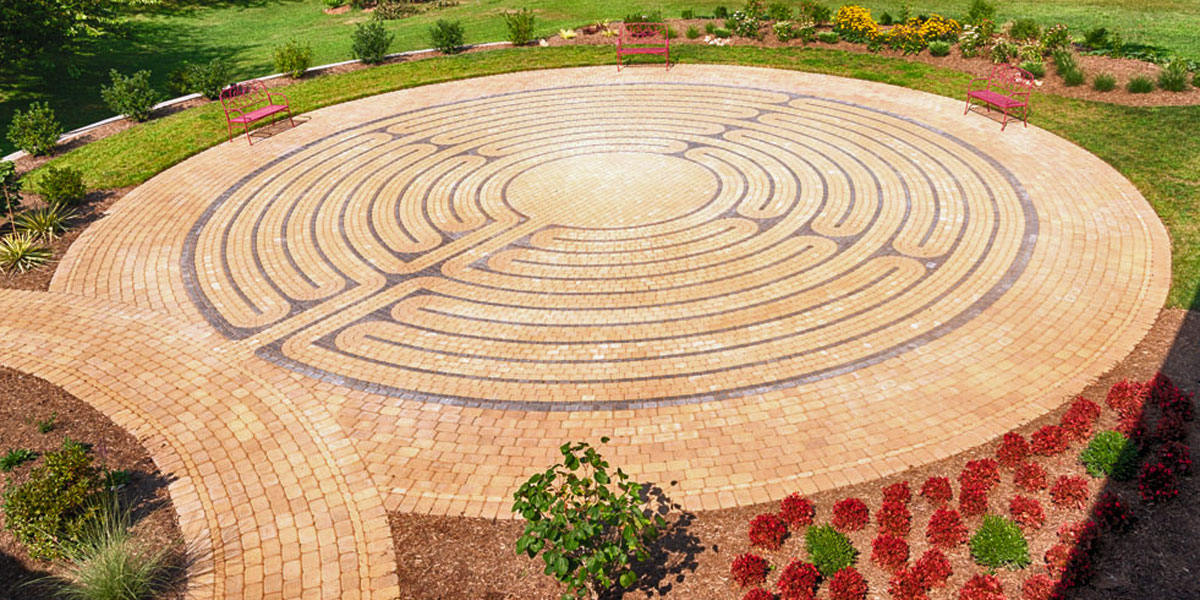 ---
November, 2018
---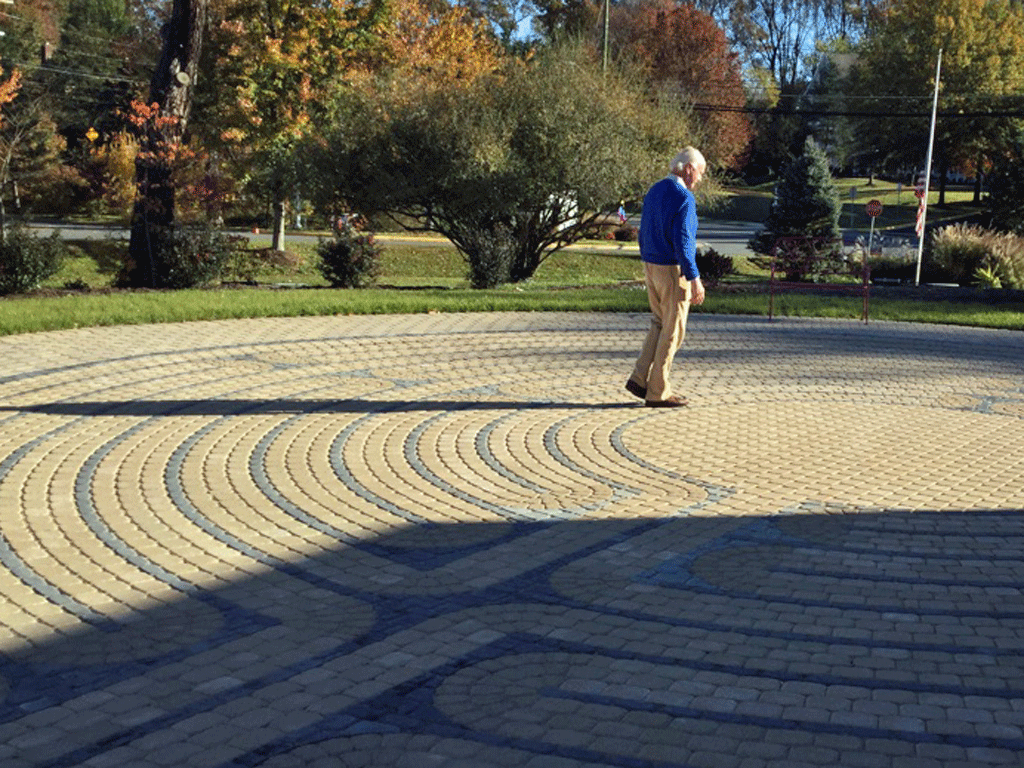 ---
October, 2018
---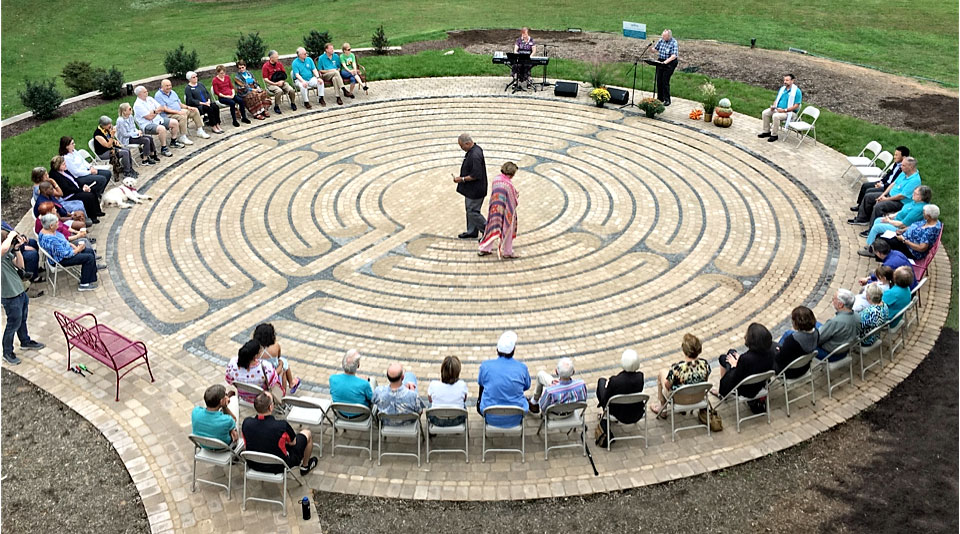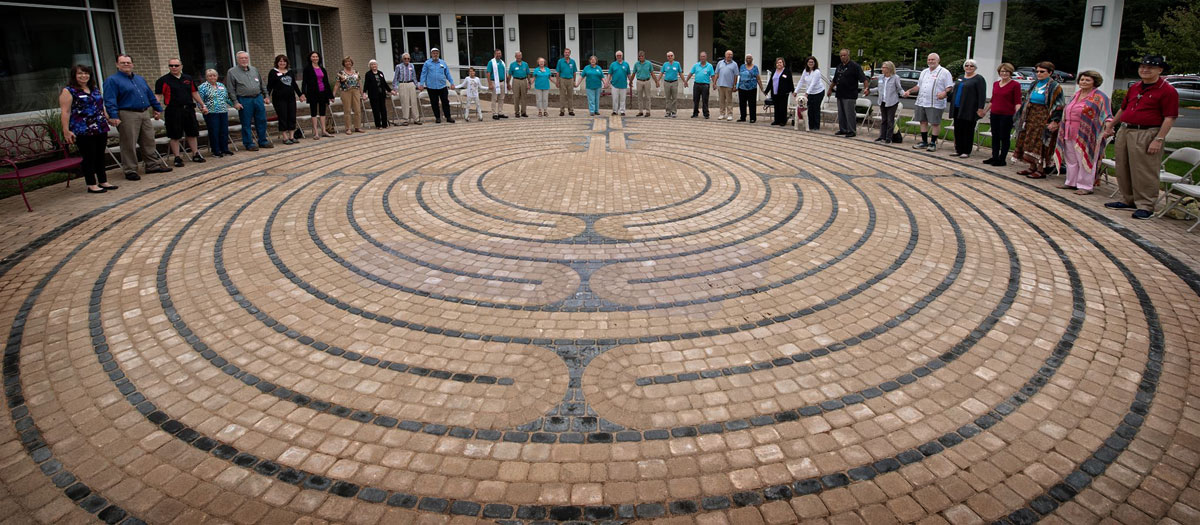 ---
September, 2018
---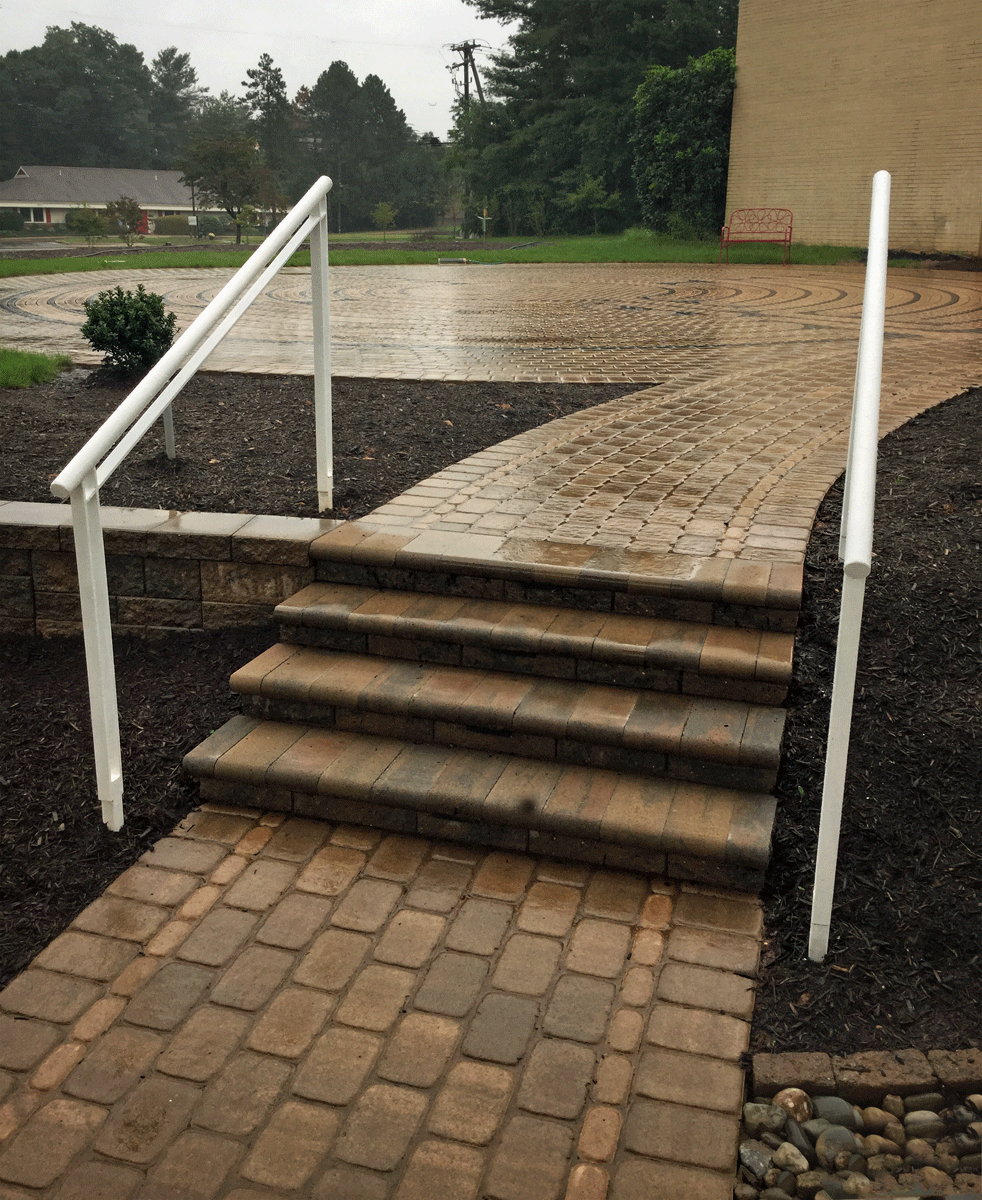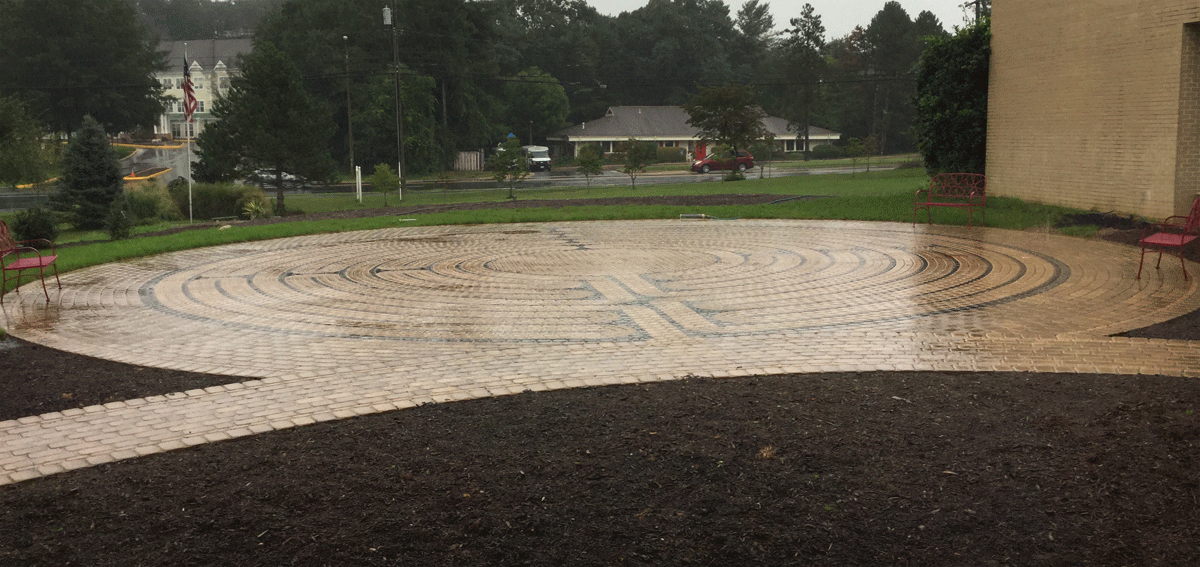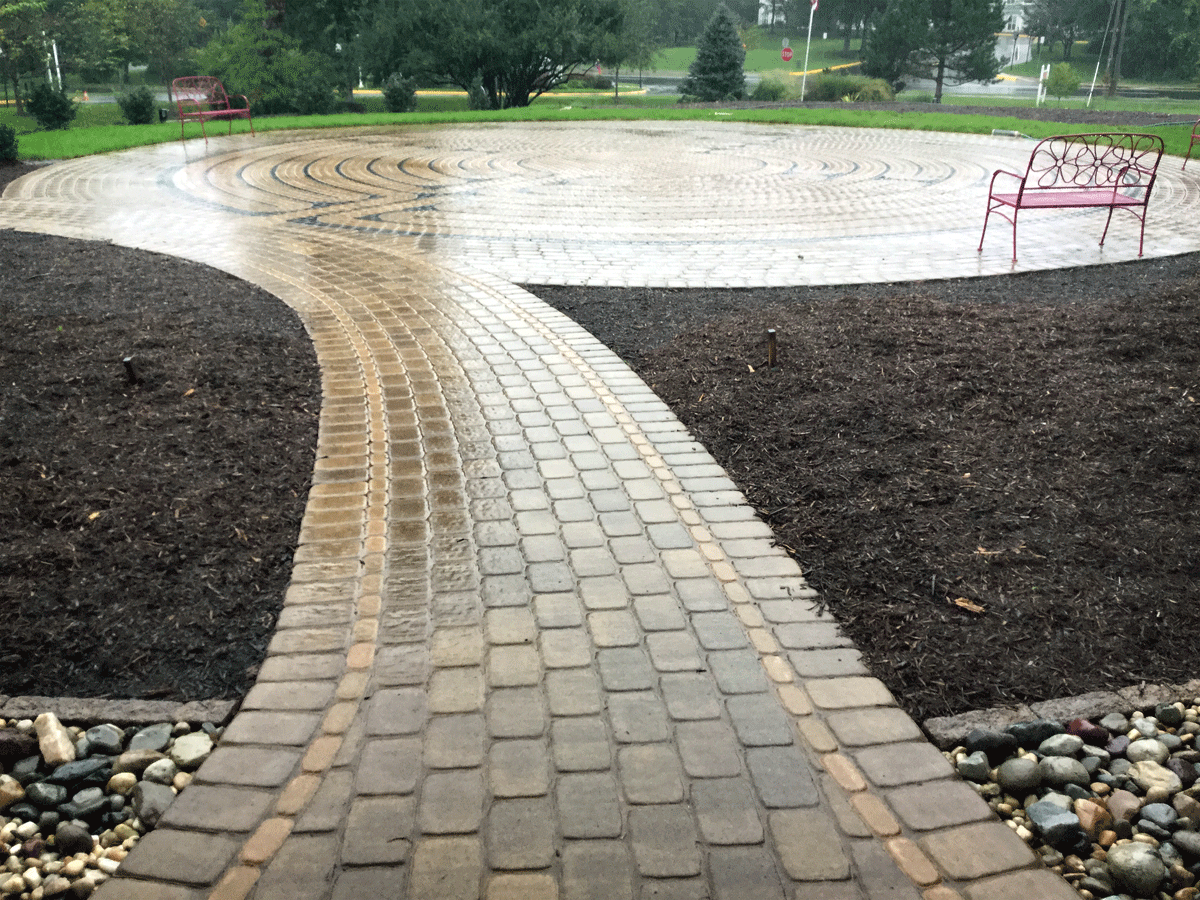 ---
Previous Updates
---
September, 2018
Extra Electricity
The labyrinth team has added outdoor electrical outlets, on the west, north, and east side of the plaza. This will allow plugging in microphones, musical instruments, spot lights, and such, for outside events throughout the year. The plaza can be used for weddings, Easter Sunrise Services, and any other gatherings we can imagine.
Hardscape is Finished
As you are probably aware, the funds raised for the labyrinth creation (over $80,000) have been spent. Thanks to so many of you for participating and contributing to the restricted fund for the labyrinth. That phase of the project is complete and the fund will be closed soon.
Landscaping
Eventually, we'll build a garden around the plaza, starting with foundation shrubs that can be installed this fall. As the seasons change, other selections such as trees, ground cover and colorful plants will be added.
EarthCare Ministry
Going forward, our Earth Care ministry will manage and maintain the plaza area through the church Adopt-A-Spot program. Reservations for using the plaza will be handled through the regular "Book an Event" feature on our website.
Time to Celebrate
Celebrations are planned for the first weekend in October, on Saturday and Sunday, October 6 and 7, 2018. There will be a Guest Event on Saturday 2:00-4:00 pm. Invitees include members of the Fairfax County Board of Supervisors, Northern Virginia clergy, nearby churches, groups that have a labyrinth already on their property, and others. We hope many of you will be available on Saturday to participate in this event and welcome our guests. Afterwards refreshments will be served in the Atrium.
After second service on Sunday, October 7th, the entire congregation will be invited to gather at the labyrinth to celebrate the dedication of our labyrinth.
August 2018 - A Picture is Worth a Thousand Words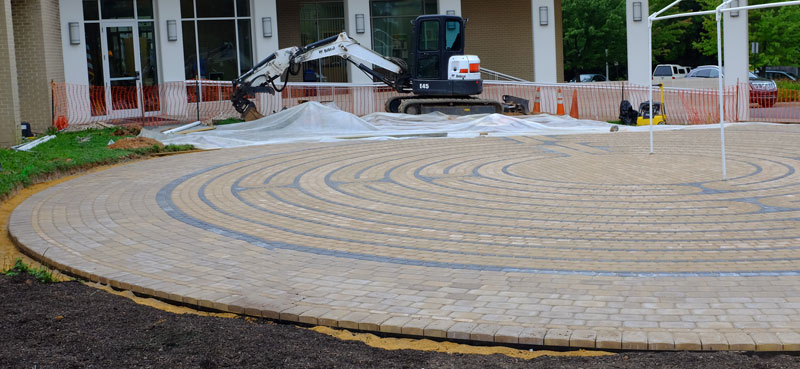 ---
Summer 2018
---
Interim Garden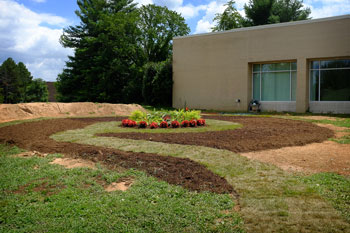 At the beginning of summer 2018, the 52-foot labyrinth plaza area was leveled with a slight slope away from the building.
An interim circular garden was created in the plaza area by Earthcare volunteers.
The garden was designed  by Rick Hartley, one of our Earthcare founders.
View a Photo Album of volunteers doing the shoveling and laying the mulch for pre-labyrinth beautification.
June 2018 - Paver Kit has Arrived
This week on Monday, a team from Pennoni Engineering surveyed the plaza area in front of the main entrance to our church. On Friday, the paver kit from The Labyrinth Company arrived and our contractor, Josh Bono of Ground Effects, was on site to supervise the unloading of the pallets. Did you spot them behind the Mildred Park Center, in the corner near the Pinnacle Academy trailer?
Josh is working other jobs this coming week, but will be back the following week to start the excavation and construction of our labyrinth. It's really happening!
Thanks to all who visualized this project over the years. Thanks to all who contributed financially to allow it to happen now. And thanks to all who are ready to receive.
Jean Lentz, for the Labyrinth Construction Planning Team:
Rick Hartley, Pete Clifford, Patrick Castellucci, Dave Wiley, Patie Wilcox, Judy Jones, Bill Jones, John Dickman-UoFx Board representative
June 2018
We have met our fundraising target of $80,000 and construction was to begin on Monday, June 18th, as soon as school let out for the summer.
Well, we have had a RAIN DELAY. Because the weather has been so wet and uncooperative, our start date has been pushed to the right, and is now expected to be Monday June 25th – or a few days later. We are going ahead with a ground breaking ceremony on Sunday, June 24th right after the second service. Hope you can be there. Wear a teal colored shirt, if you have one.
On June 27th 40 tons of pavers will be delivered on 17 pallets from The Labyrinth Company for our 40-foot diameter Breamore labyrinth, and stored in a safe corner on the parking lot. The pavers for the 5-foot wide apron that surrounds the labyrinth, making the plaza 50 feet in diameter, will come soon after, as well as the blocks for a short retaining wall along the north end.
Also, the perimeter safety fencing is being installed on the 27th. The ground survey should have been completed a day or two earlier. The big equipment will be onsite by Monday, July 2nd, at the latest. Thank you, God!
Construction is estimated to take 12-15 work days. That puts it ending at about July 16-20. A proper celebration is planned for the fall.
Thanks to everyone for visualizing a labyrinth over the many years. Prayer works. It's coming. The labyrinth is coming. Hurrah!
---
May 2018
Great news.
We have reached our fundraising goal for the Unity Labyrinth Plaza.  Thanks to all who donated.  Whether we know of your personal contribution or not, be it financial or otherwise, the Unity of Fairfax family blesses and thanks you for your participation. Spirit knows what each of your gifts meant to you, named and anonymous.  As fellow members of Unity of Fairfax, we together treasure these sacred grounds.
With the reaching of our financial goal, we can now order our labyrinth kit and confirm our contract with the construction company, Ground Effects.  Construction will begin on/or about June 18th, once the Pinnacle Academy goes into Summer break.
The new permanent outdoor Labyrinth Plaza is about to be brought into realization.  A new chapter of our spiritual community is unfolding.  Celebrate!!!   Stay tuned for more information regarding a dedication ceremony.  How exciting.
---
April 2018
Load the labyrinth with love. 
By now we all have seen the selected site on our sacred grounds where our Labyrinth Plaza will be constructed.  Here, at this focus, Mother Earth is poised to receive our blessings and prayers of love, joy and healing.  Each of us putting our Christ consciousness awareness at the site and into the foundation will strengthen the future energy of the Labyrinth and increase its power for inner transformation to those walking it's path.
You are encouraged to send your blessings and prayers as you pass by this space where you will be reminded that your own special energy will become an integral part of future sacred walks. 
Please, everyone, be the affirming action that instills our Labyrinth with a foundation of love.  As a congregation, we can each do this - 100%.
April 2018
We have a Matching Donor that will be running a $10k match campaign through the month of April.
We have around $20k left to fund which means the project could potentially be done by the end of April. It's time to raise our awareness, turn our thoughts and prayers into reality, and pour our energy into the space so the Labyrinth can appear.
If you wish to donate to the Labyrinth project, donations can be made in the Atrium, on the website using the Donate Now button, or Txt2Give.
This is such awesome news that the Labyrinth Plaza Team (LPT) wanted to be sure you received the information.  Time is running out if you planned to make a contribution for building this spiritual walking path. April contributions will be doubled with the contribution match challenge, so the timing is perfect.
Unity of Fairfax has been blessed with your support for this project and the LPT thanks you for any financial contribution you have or wish to make at this time.
As you start to walk on the way, the way appears.
- Rumi
---
March 2018
The Unity of Fairfax Board of Trustees (BOT) has approved the Labyrinth project and authorized us to formally begin fundraising. Also, Judy and Bill Jones have stepped forward to head the fundraising.
We last reported that without a formal fundraising effort we had already received $48,000 of the $80,000 we need to complete the project. After sending out the email to you, we have sky rocketed that figure to $60,000 (75% funded) with a balance of $20,000 to go. Hallelujah!!
On March 18th, Rev. Russ invited the congregants from both services to accompany him to the labyrinth plaza site for a special blessing prior to beginning of construction. EarthCare volunteers supported the event by hosting the monthly Organic Sunday fellowship outside, near the temporary plaza. Thank you, Earthlings.
At the top of the Labyrinth Plaza page is a picture of that gathering with a very realistic computer visual of the future labyrinth superimposed on the plaza area. "Visualize our future permanent labyrinth here."
There are two paths to bring about our Labyrinth, and you can walk both of them now. 
The first, the path of giving your joy-filled energy and spirit as you bless the sacred space where it will materialize. Your positive energy now will help to manifest the labyrinth for us and for generations to come. Spirit is in charge.
The second path is the path of giving your financial resources. Previously, we listed the various ways for you to make a donation to the labyrinth; including:
You can write a check to Unity of Fairfax, and on the memo line indicate "Labyrinth" (bring it or mail it to the church) or,
You can DONATE NOW to the Unity of Fairfax Labyrinth.
Another new way has been established for you to donate via credit card using your cell phone.  It is really quite fun to do. This brand new service is called, Txt2Give.
Here are the steps.
Using your message function on your cell phone, text the word "give" to 703-935-4525, and follow the prompts. Note this phone # is specifically for Unity of Fairfax donors.
A message appears:  "Here's how to give to Unity of Fairfax. Please enter a number"

General Fund
Labyrinth Fund
Capital Improvement Fund

Select #2. Then it asks "How much would you like to give to the Labyrinth Fund?
After you text a $ figure, it asks for confirmation  "Give $ to Labyrinth Fund?  Enter yes or no"
It will also ask if you want it to be "recurring" so you can answer "no" for a one time donation.
Once you confirm the $ amount, it will ask first time contributors to enter their name, address, and credit card info.
Once you are set up, you do not have to repeat the above step. So if you create a contact on your cell phone for Txt2Give @ 703-935-4525 , then your repeat contributions will be easy. On our website, a donor has to enter all their information each time they contribute, so Txt2Give is easier for repeat use.
Try it. You'll like it!
---
February 2018
It has been awhile since we provided an update on the status of our project. With the announcement of exciting news, this is the opportunity to let you know what is happening. There have been several milestones we can share. Including:
The Unity of Fairfax Board of Trustees (BOT) has approved the project and authorized us to formally begin fundraising.
The awesome news is that without doing any significant fundraising we have already received $48,000 of the $80,000 we need to complete the project. That is a remarkable testament to you, who have been so generous with your donations. More about fundraising later.
Here are important actions we want you to know:
The BOT, through your Labyrinth Plaza planning committee has authorized the church's engineering firm, Pennoni, to finalize a site grading plan in preparation for construction.
After completion of a lengthy competitive review of three prominent construction companies, we have selected Ground Effects Landscape Construction to create the infrastructure and install the labyrinth plaza.
A contract has been signed and a start date agreed upon. Because of concern for the safety of the Pinnacle Academy students, we will begin construction in June while the Academy is on its summer break.
The actual Breamore labyrinth kit will be ordered mid-April from The Labyrinth Company. Funds are needed!
On March 18th, Rev. Russ intends to invite the congregants from both services to accompany him to the labyrinth plaza site for a special blessing prior to beginning of construction.
Regarding fundraising: Bill and Judy Jones have graciously agreed to head the fundraising sub-committee. They are seeking others who want to be a part of this aspect of the project. If you want to join with them in developing ideas for fundraising, send an email to Bill Jones: bjones7731@verizon.net
If you want to make a donation now, and we hope you will, there are several ways to do that:
You can write a check to Unity of Fairfax, and on the memo line indicate "Labyrinth" (bring it to church on Sunday)
You can click on this link that will take you to the Unity Labyrinth web page where you can make an online donation: Donate Now

One inch of the labyrinth path for only $8.00
One foot of the labyrinth path for $100
One yard of labyrinth path for $300

Or more if you feel very prosperous today

You may wish to donate appreciated stock to the church. Doing so may result in a substantial tax credit. Speak to your financial advisor, or see Patie Wilcox, our Church Accountant.
So, you see why we are excited about the advancement of our project! This has been a long time in coming, and more actions are needed to bring it into reality. Frankly, there were times when we didn't think we would be able to bring this to fruition, but because of your encouragement and support we have reached this critical stage. Now, with your help, we see the finish line and are rejuvenated in our efforts to reach it.
---
July 2017
We want to briefly update you on the latest news surrounding our labyrinth project.
This past week an interim landscape design has been installed where the future labyrinth will be located, with the devoted service of eight Unity volunteers.  Cost was under $2,000.  Our goal now is to keep the sod continuously saturated for the next two weeks.  The temporary partial dirt berm will be made more attractive in the near future with minor modification.  Eventually, the final berm will help filter noise and block the view from Hunter Mill Rd.
One sign will be placed in this garden near the berm asking all who pass by to "Visualize This Labyrinth Here." Another will picture the final labyrinth design.
The Core Planning Team is developing a RFP (Request for Proposals) to be completed and sent to a minimum of three contractors by the end of August with a November date targeted for contractor start-up.
We are pursuing a labyrinth design with a platform which drops almost three feet below ground level by the classroom wing of the building.  This will have a very positive influence on increasing the sense of privacy for walkers.
As of 7-30-2017 donations for the labyrinth total $30,000.  Two anonymous donors have given $5,000 each, with the challenge that each dollar must be matched. We are shooting for $50,000 to fund stage 1. These contributions are over and above normal financial support of our church.
The Core Planning Team wants to add three members at this time to the Team.  As regular Team members, these people will meet with the entire team, usually 2 to 4 times a month, and will likely continue through December 2017 when stage 1 of the project is targeted for completion.  The positions and brief descriptions are:
          1. Funding Coordinator:  Brings fund raising ideas to the Core Team for discussion and approval; recruits persons to plan and implement approved ideas; keeps Communication/Marketing Coordinator apprised of activities; coordinates, as needed, with Patty Wilcox, Unity accountant; advises Team of financial progress.
          2. Communications/Marketing Coordinator:  Coordinates and manages all church communications on the project utilizing  staff and volunteers and venues for distribution; creative; keeps Core Team apprised; insures that all dissemination of material is approved by the Core Team Chair, Jean Lentz.
          3. Special Event(s) Coordinator:  Coordinates with entire Core Team; responsible for planning and managing any special labyrinth activity that may increase interest in the project and love of the spiritual practice of walking a labyrinth; provide opportunities to send spirit energy to the site or to seek volunteers to assist in some way in the construction of the labyrinth, itself.
Please consider stepping up to one of these positions.  Contact Jean Lentz or Rick Hartley if you have questions or wish to volunteer.
The church Quarterly Dialog meeting is this coming Sunday, August 5 after the second service.  There will be a short presentation on the outdoor labyrinth.  This is you special invitation to attend.
---
June 2017
Greetings to our special labyrinth Google group of supporters.  Your belief and interest in this project is very special.  Sharing your energy and passion around co-creating the labyrinth will help ensure the positive future energy of the labyrinth and heighten its effect for inner transformation to those walking its path.
The purpose of this email is to update you on the design team's planning:
1)  This is the Labyrinth Project Vision Statement that was drafted by Patrick Castellucci and John O'Toole from their meetings with you last year.  Please read and let us know if you have comments.
Vision Statement
To co-create a permanent labyrinth which is located on the grounds of Unity of Fairfax as a magnet for prayer, meditation, and ministry; and to serve as a path for spiritual discovery, healing and enlightenment for all.
2) The design team agreed with the recommendation of the earlier labyrinth planning group to locate the labyrinth at the front entrance to the main building, but to also accept the recommendation of the architectural firm of LeMay Erickson Willcox to create a circular labyrinth having the center of the labyrinth placed at the center of the arc formed by the roof of the entry canopy.
3) Accurate final grading and infrastructure under the labyrinth surface will require engineering.  We are using the professional services of Pennoni, the civil engineering company that was contracted to engineer the construction of our present church building.
4) The Labyrinth Company located in Connecticut, www.labyrinthcompany.com , has provided guidance and  ideas to the team.  Among a number of kits they sell, the Breamore design with a 39' diameter is favored.  This kit provides for a path of buff pavers with gray lines defining/separating the eleven circuits, and, in addition, directions for assembly.
5) Forward movement by the design team was halted at the end of 2016 to provide the Board time to review church operational budget matters.  With the greater expectation of future funding sources now, the labyrinth project is resuming.
6) Computer design drawings of the labyrinth and written construction details will soon be sent to our engineer advisor for comments.  Once a response is received, a final RFP will be written and sent to contractors to obtain a minimum of three bid responses to evaluate.
WHAT CAN WE DO NOW?
Every Sunday at 10:30am and 12:30pm, we briefly gather at the labyrinth site to pour our energy into the void to manifest the labyrinth.
Maintain a prosperity consciousness, being open to give of your time, talent, and financial resources to this project.
"We are in the upward, forward, progressive movement of Spirit; the mark of success is upon us."
 
Last updated on August 26, 2020